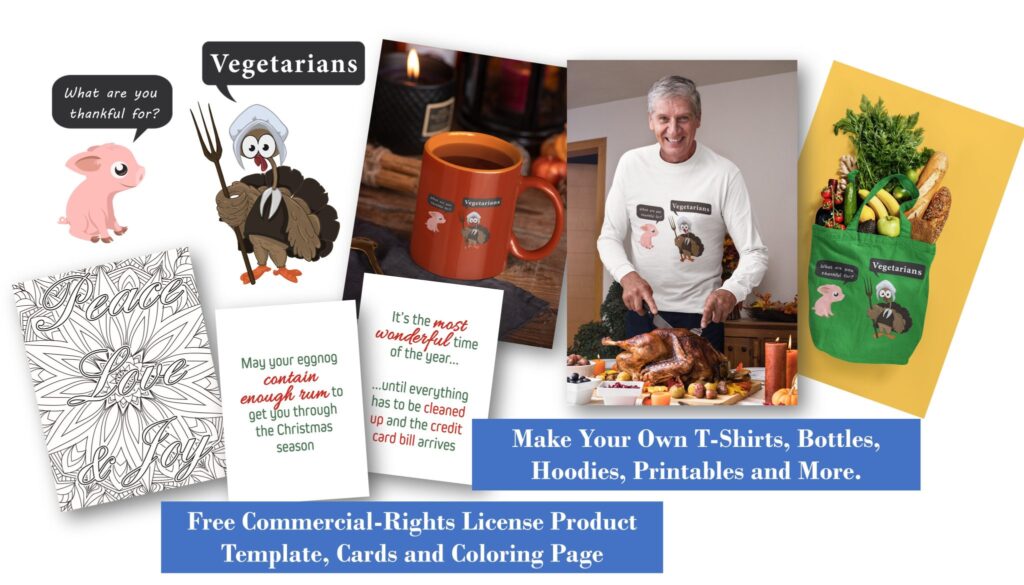 If you're looking for free Christmas PLR, look no further! Our friends at EKitHub have a handy free PLR pack for you. You can edit them, brand them and use them in your commercial business projects.
Click here for your free Christmas PLR

The package includes:
"Peace, Love and Joy" Coloring Page (PNG and PSD)
"What are You Thankful for" Product Template (PNG and PSD)
2 inspirational graphics for your social media, card decks and more (PNG and PSD)
You could use the free Christmas PLR to:
Create mugs, tshirts, tote bags, kitchen towels, etc. It's easy to upload these images to print-on-demand sites like Printful and Gooten…plus, you only pay for products when you make a sale. No need to carry inventory.
You can also make lovely print-on-demand gifts for your best clients, partners, affiliates and people you want a business relationship with.
Share the graphics on social media, add them to blog posts, your newsletter or wherever you publish content.
Add the coloring page to your holiday-themed coloring book or use it as the start of a new one.
Give the coloring page away for free, but have your visitors opt-in to get it, so you have a new subscriber on your list.
Add the coloring page to a journal, activity book or other book product.
Use the graphic as writing prompts. Just put them in a post and start writing what it means to you.
Create greeting cards from the images for your clients and colleagues.
How to Brand and Edit This PLR:
All the images come in PSD format, so that means you can edit them with Photoshop…but if you don't want to buy Photoshop, you can use the totally FREE Photopea or GIMP editors. They allow you to edit the layers.
If you convert the images to PDF, you can also upload them to Canva or Adobe Acrobat – to make very simple edits, add your branding, etc.
PLR License information:
You will find the PLR license information on the sign up page and in your download files, but for your convenience, here is what EKitHub allows you to do with these coloring pages:
You can add the content to a product that you plan to sell or give away for individual use.
You can modify the content (by removing, adding or otherwise editing any elements) to suit your needs.
You can use the content in your websites, blogs, newsletters, social media or anywhere you publish content.
You can add your name, URL or logo as the author/creator of this PLR content
You cannot list EkitHub.com, HappyDogIsland.com, Happy Dog Island Store Inc. or anyone connected with our company as the author of this content. Why? This is private label rights content and we are offering the content without labels or branding.
You cannot sell or give away the original resell rights or offer any commercial rights to this content in any form.
You cannot allow your customers to edit the documents or files. Please provide them with a PDF or other non-editable files. Your CAN do customizations on behalf of your customers, but they cannot make edits of the original files.
Click here to get your free Christmas PLR
How to Get More Christmas PLR at a Really Great Price
Once you download them (no strings attached!), you'll see a special offer to upgrade to a larger package of holiday-themed PLR. We highly recommend it if you need more personal growth coloring pages for your business.
EKitHub specializes in high quality done-for-you content that can use to grow your business. You're always in good hands there. We know, because the founder of our website is one of the CEOs who has been making PLR content since 2006.