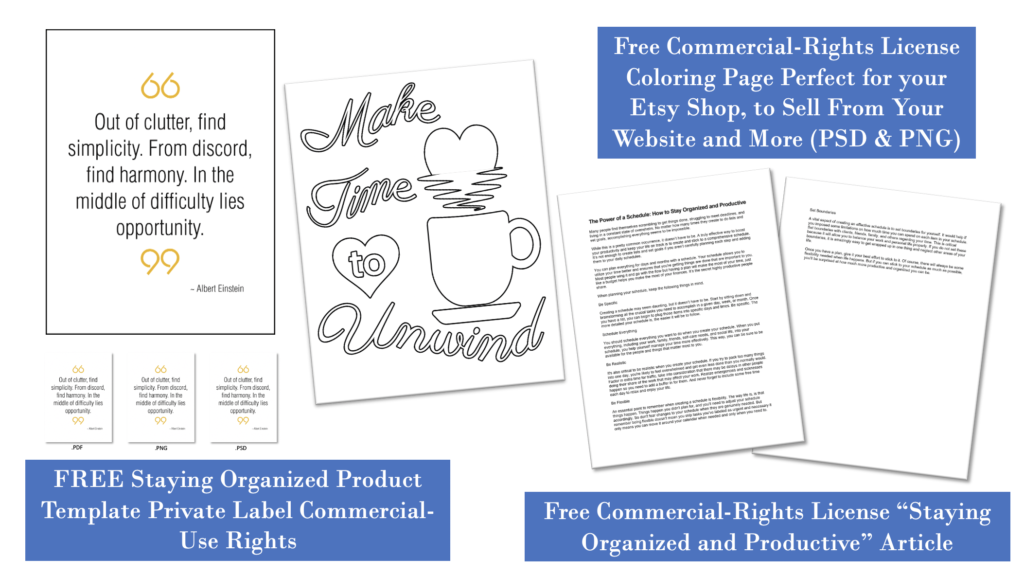 If you're looking for free productivity PLR, we've got you! Our friends at EKitHub have a handy free PLR printables pack for you. You can edit them, brand them and use them in your commercial business projects.
Click here for your free productivity PLR

The package includes:
Decluttering Poster Quote Graphic (PNG, PSD and PDF)
"Make Time to Unwind" Coloring Page (PNG, PSD and PDF)
"Staying Organized and Productive" Article (PNG and PSD)
If you help your customers get organized and/or productive, you should definitely pick this one up here. If you are just thinking of getting into the niche, let us assure you…
The Organization and Productivity Niches are BOOMING!
EKitHub has a really useful tutorial on Starting a Business in the Organization and Productivity Niche that you can check out for some great advice on getting started.
From the tutorial:
According to Freedonia, in the U.S. alone, home organization products are projected to be a $13.5 billion industry by 2025. And when it comes to productivity, just productivity software alone was $41.96 billion dollar market in 2020 and is projected to grow 14.49% by 2026, according to Verified Market Research. The University of Chicago did a research study that found the average worker spent 14 hours and $600 to support their new work at home lifestyle.
The tutorial will includes: more market statistics, popular productivity topics, products you can sell, how to build your audience and how to get a bunch of done-for-you content to get a head start in the niche.
How to Brand and Edit This Free Productivity PLR:
Back to the FREE PLR package, here's how you can brand and edit this content.
All the images come in PSD format, so that means you can edit them with Photoshop…but if you don't want to buy Photoshop, you can use the totally FREE Photopea or GIMP editors. They allow you to edit the layers.
They are also provided in PDF format, so you can also upload them to Canva or Adobe Acrobat – to make very simple edits, add your branding, etc.
EKitHub offers a really good private label rights license that allows you to edit, brand and monetize the content in many ways. You can give it away for free or sell it directly to the consumer…or you us it to build your traffic and grow your list.
Pretty much the only thing you CAN'T do is give the PLR or resell rights to anyone else.
Click here to get your free productivity PLR
How to Get More Productivity PLR at a Really Great Price
Once you download them (no strings attached!), you'll see a special offer to upgrade to a larger package of staying organized and productive PLR. In fact, it includes a WHOLLE year's worth of content. We highly recommend it if you need more personal growth coloring pages for your business.
EKitHub specializes in high quality done-for-you content that can use to grow your business. You're always in good hands there. We know, because the founder of our website is one of the CEOs who has been making PLR content since 2006.
To get started, go here to get your free productivity PLR.
We know you'll be back for more!