If you're looking for organization PLR or productivity PLR, here is a MASSIVE package you don't want to miss. Plus, we have a special discount link for you, so you can get the best price possible.
In fact, it's a WHOLE YEAR'S WORTH OF CONTENT, just ready for you to brand, monetize and publish…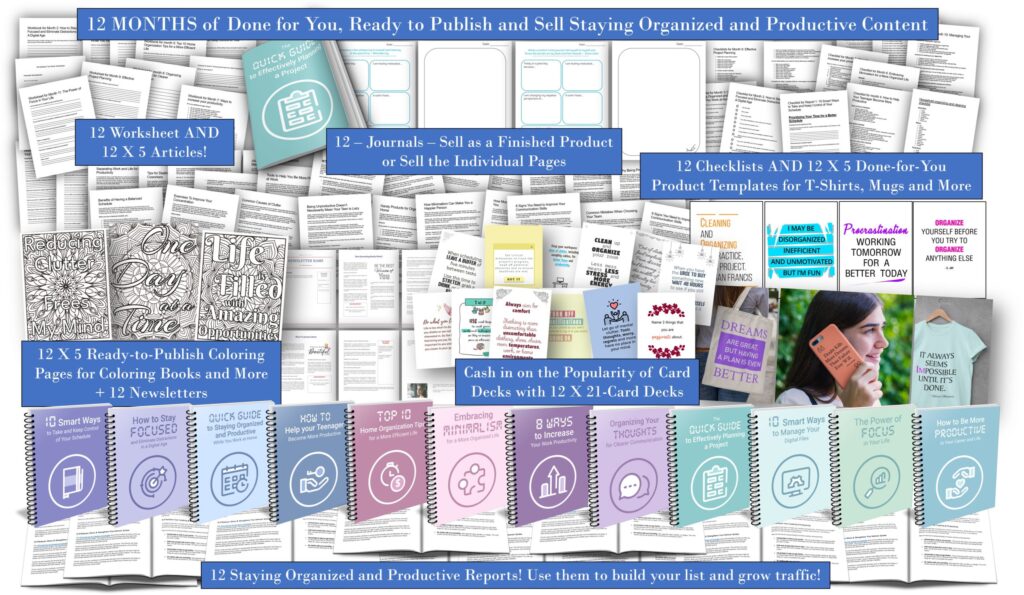 These are the monthly topics (but your can download them all all at once with the 1-pay option):
Scheduling and Planning
Living in the Digital Age of Distraction
Work at Home
Help Your Teenager Be More Productive
Home Organization & Decluttering
Minimalism
Work and Career Productivity
Organization of the Mind
Project Planning
Digital Organization
Staying Focused
A Productive Life
And a quick rundown of the individual content pieces included:
12 Reports with Ecovers
60 Articles
12 Printable Newsletters
60 Posters/Product Templates
60 Coloring Pages
12 Journals with Ecovers
12 x 21 Card Printable Card Decks
12 Worksheets
12 Checklists
Get FULL details and the best price here.
The image above doesn't even show all the content include, so click here to see a full breakdown and peeks at everything.
Some ways you can use this content…
This content can be used to build your traffic, grow your mailing list and get more followers on social media. You can also use it to create instant products for sale, build a coaching program around, add it to your membership and more.
Here are some ideas for what to do with the individual content pieces.
Give the reports away as an opt-in offer to grow your list, add it to your membership site and more.
The series of reports can be put into a book or ebook that you put up for sale. Bundle that up with the worksheets and checklists and you can start teaching a very in-depth course.
Each report comes with an ecover set, so you can give a more tangible feel that helps increase the perceived value, whether you're giving it away for free or offering it for sale.
The articles are perfect for your blog, membership site, social media…or bundle them up into another report or several reports.
Create quick printables like activity books, coloring books, card decks, etc. You have 12 activity books, 60 coloring pages and 12 card decks to work with.
The product /poster templates can be used for printable wall art posters and book inserts. They can also be used for print on demand products like mugs, t-shirts and more. Use a service like Printful and create these products without any upfront costs.
There's tons of social media fodder. From the card images to the posters and articles, there's a lot of great stuff to share. Use them as posts, stories and more.
Sell printable or print-on-demand journals. These are fully done and ready go. Activity books can be a very lucrative low-content product. They're also a great extra to give to students of your course and your coaching clients.
Put together an in-depth course to teach your students about the topic. You have the journaling materials, practical tools and marketing materials to make it happen.
A lot of this content is also perfect for loading up your membership site. Don't have a membership site? You could consider starting one.
Create product bundles with matching journals or card decks. Bundle up the value and customers are more likely to say yes to buying.
Change the easy-to-edit activity book designs to appeal to different audiences. These are totally editable and adaptable to your target audience.
Create high-value and easy gifts to ship to your very best clients. A little thoughtfulness goes a long way for creating lifetime customers.
Use the images as beautiful blog or writing prompts. Just add the image to your post and start writing your thoughts on what the saying means to you and how your clients might benefit from it. And if you're selling the deck or templates as well, make sure to link to it from all the posts.
Click here for full details and the special price link.
Such great value here…do not miss this incredible PLR offer. EKitHub specialized in done-for-you content and printables that allow you to publish high-value content and in-demand products quickly and easily.
Definitely take advantage to make this PLR work for you!