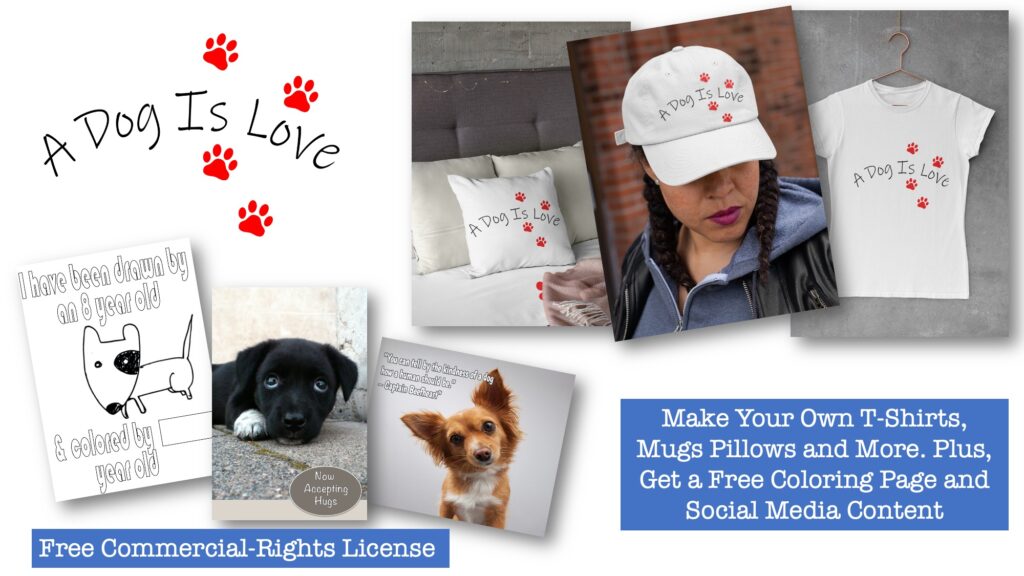 If you cater to an audience of dog lovers, here's a free PLR pack you don't want to miss. This free dog PLR includes handy content for your social media, can be used for printables and print-on-demand products.
Click here to get your free dog PLR
The Free Dog PLR Package includes:
Product template
Coloring page
Inspirational quotes graphic
1 Pinterest Pin
1 Instagram or Facebook story
As you can see lots of content to get you started. And it's all fully editable, brandable and for commercial-use.
What You Can Do with this Free PLR:
You can use the product template to create print-on-demand t-shirts, mugs, cushions and more. All you do is sign up for an account at Printful and they'll ship products to your customers and you only pay when you make a sale. And the best part is, you don't have to carry an inventory. It's all taken care of for you!
Use the coloring page as a free giveaway or you can add it to a coloring or activity book. This fun design says "I have been drawn by an 8 year old and colored by a ___ year old" allowing the artist to fill in their age.
The inspirational quotes graphic can be posted to Facebook, Instagram, Twitter, your blog or wherever you like to publish quotes graphics.
Add the Pinterest Pin to Pinterest and link to some content on your website about dogs.
Add the story to your stories on Facebook and Instagram. You're sure to make your followers smile.
How to Edit and brand This Free Dog PLR:
The graphics come in PNG and PSD format, which means you can use Photoshop to edit the layered PSDs. But don't worry, if you don't want to invest in the software, you can use the FREE Photopea or GIMP editors that give you the same design control.
If you don't use any of those editors, you can just upload the PNG to your favourite program and add your branding, etc.
There are lots of options to work with this free dog PLR. And hey, you can just publish the content as is. If you don't feel like editing it, you don't have to.
How to Get More Dog PLR:
Once you pick up this free package of dog PLR, you'll see a very special offer to get more content just like it. This is special pricing that is not available publicly, so we highly recommend picking it up.
Click here to get your free dog PLR – and then you'll see the special offer.
It comes from EKitHub and is backed with more than 2 decades of content marketing experience…and created by a team that has been selling PLR since 2006.
More Ideas for Using This PLR:
Create awesome and easy gifts to ship to your very best clients.
Create fun swag to promote your brand…instead of the usual boring corporate stuff.
Create quick printables like journals, coloring books, note cards, stickers, checklists, etc.
Have merchandise like t-shirts, mugs, phone cases and more for sale.
Inspire and entertain your audience with fun and uplifting designs
When you've got done-for-you PLR content, you've got options!